How to Program TV remote to SuperBox Remote?
How to Program TV remote to SuperBox Remote?
You know SuperBox Remote control is a Universal control.
What is Universal control?
A universal remote is a remote control that can be programmed to operate various brands of one or more types of consumer electronics devices. L. For example, a VCR remote may be programmed to operate various brands of televisions. (Wiki)
While push-button controls make life a lot simpler, no one desires a heap of them occupying space on the coffee table. That's where the Universal remote is available in handy. This tool is indicated to replace your numerous remotes, restricting home entertainment system clutter while keeping the ease of remotely regulating your gadgets. The trickiest part of these remotes is setting them up, but once you have actually done that, it's simple to turn gadgets on or off from the comfort of your sofa.
Which TV Models or brands CAN SuprBox Remote Control?
Superbox remote control could control most of the model and brand in the market place ,including,Samasung, LG, TCL, HiSense,Skyworth,Rokutv, FireTV like:TCL 2021 Model, TCL 2020 Model .... TCL 2015 MODEL, SamSung 2021,2020... 2015 Model. LG 2021, 2020 ... LG 2015 Model. SamSung 2021 series, 2020 seriex ... 2015 series.... Almost ALL the TV brand and TV model in the marketplace.
How do I program my TV remote to SuperBox Remote control?
Before you can begin setting your superbox Remote, make certain the batteries are properly set up and also fresh whenever possible. Weak batteries might impact the signal sent by the remote as well as can squander your valuable time without also understanding it. Second, ensure you can develop a direct link in between your SuperBox remote and the remote you wish to program. Closer is better. If something gets in the way (your cat, youngster, or even a things) as well as the procedure is cut off, you will possibly need to start over from the beginning.
Step 1
To find the programmable area. It is located in the top of the remote control,and outlined with the white line. You could find that superbox support four buttons to program your TV: Power button, Input button,and Volume Plus and Volume down button.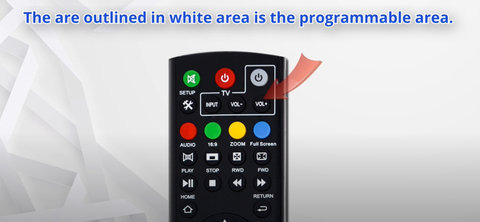 Step 2
Press the power button in the programmable area, and suppress more than 5 seconds ,then you will watch the red light blink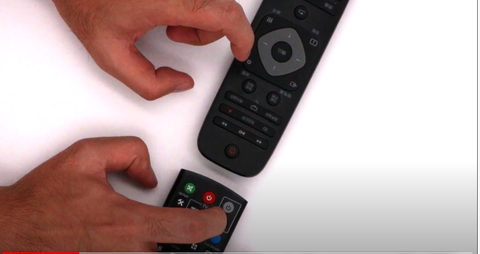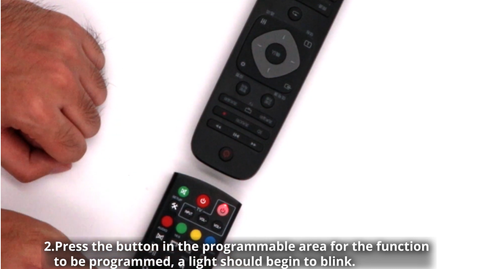 Step 3
Aim the TV remote control at superbox remote control,they should be 1 apart. The red light should flash 3 times and remain lightened it their function was copied. Otherwise the red light should flash 5 times if the programming failed and we need to revert back to Step 1 to  programming status to.And repeat do Step 2 and 3.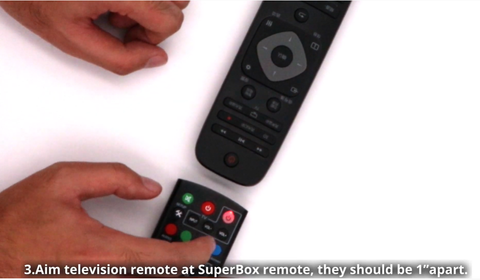 Step 4
Press any key to exit the programming status when you finished your programming.Then the red light of the superbox remote should trun off.
Step 5
Now you could use the Superbox remote controt to operate your TV .
What need to do if my superbox remote control was destroyed or Lost
There are 2 ways to resolve thie problems.
1,You could buy a new one from amazon
2,.You could install a Applincation on your android phone Superbox Control.
Using the SuperControl APP, you can control your SuperBOX with your Mobile phone instead of the remote. And download APPs to your box via your Android Mobile Phone. In the first, you need to download the SuperControl APP to your mobile. You can scan the QR code from the SuperControl application(It is in the Box's APPSTORE). Or just get it here:Download The SuperBox Control App.​ Then you have to make sure your mobile phone and box were under the same internet environment.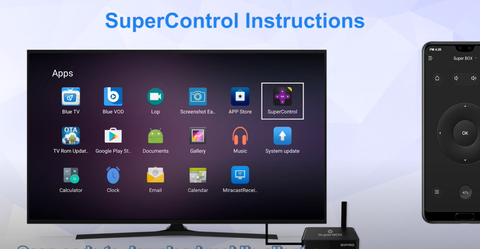 ---